Pier 19 of South Padre Island has a menu for everyone: Burgers and sandwiches, out of sight seafood, and unique chef specialties. Enjoy breakfast, lunch or dinner over the water at Pier 19.
The entire pier has been dedicated to your dining and sightseeing pleasure. Located perfectly on the Laguna Madre between the Queen Isabella Causeway and the Brownsville Ship Channel creates a unique panorama for photography or viewing pleasure. Pelicans, dolphins, large ships, charter boats, parasailing, beautiful sunsets and much more can be viewed from the restaurant, boardwalk or Hooker's bar at the end of our pier.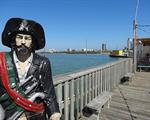 Pier 19 serves breakfast, lunch and dinner. Specializing in "Local Wild Caught" seafood cooked to perfection. Bring your catches to the restaurant and they will have their chefs prepare you a feast with all the trimmings.
The Pier 19 mission is to ensure that you will enjoy unique food, drinks and service. Please keep in mind this is not a "fast food" restaurant. Pier 19 strives to serve delicious food in a timely manner, remember quality takes time, so sit back, relax and enjoy the sights and sounds of the beautiful Laguna Madre.
The entire 750 foot pier has been dedicated to your dining and sight seeing experience with spectacular daily sunsets. So come and enjoy the free dolphin and pelican sightings, along with sights of the local wind surfers, para-sailors, kayakers and fishermen.